'Dirt' presented by Green Carpet Movies @ MoRUS – Thursday, July 27th, 8:30pm
Green Carpet Movies @ MoRUS presents 'Dirt'
Thursday, July 27th, 8:30pm
Museum of Reclaimed Urban Space, 155 Avenue C
Facebook Invite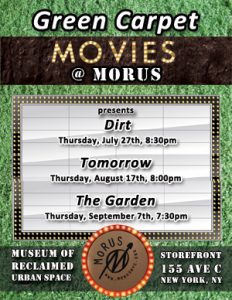 The award winning documentary 'Dirt' is screening at MoRUS (Museum of Reclaimed Urban Spaces) on July 27th at 8:30 PM.
Shot in NYC's East Village in the mid 1990's, 'Dirt' depicts a year in the life of gardens created by local people on blocks once dominated by drugs and crime. 'Dirt' shows many of the gardens that are now lost to re-development and the painful impact of this loss.
'Dirt' is the first in our series 'Green Carpet Movies @ MoRUS' showing this summer to coinside with the current exhibition 'Grow Me A Garden: Seeding a Community Garden District in NYC.' Read more about the exhibition, which will be up through September 8th here.
© MoRUS 2015 - Website Design by
@aicragellebasi