'Spy Vs. Us' 5th Annual MoRUS Film Fest- Wednesday, August 2nd to 5th, 8:30pm
Spy Vs. Us
5th Annual MoRUS Film Fest
August 2nd-5th, 2017
8:30pm @ Various East Village &  LES Garden Locations
Facebook Invite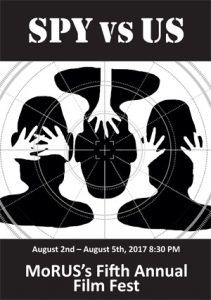 As Americans, we think that the government works for us. But actuality we have been learning how for decades the government has been spying on its own citizens. Even more disturbing is when our leaders take surveillance to the next step: interfering with community groups, especially those trying to make positive social change.
We will open with the film '1971,' documenting how a group of activists broke into the FBI's office in Media, Pennsylvania and to their surprise found that most of the FBI's files were on local activist groups and not on criminals or legitimate investigations. They also uncovered the first evidence of COINTELPRO, which went further than spying and also included unlawful infiltration and disruption tactics. These revelations, which shocked the conscience of the nation, led to the Church Committee hearings and subsequent enactment of the Attorney General Guidelines to curb FBI spying.
Nearly 50 years later, in contrast to the 1970s, when the government and elected officials expressed disdain with spying and interference of our own people, now the government is the active participant in similar efforts. The Museum of Reclaimed Urban Space's film fest will focus on a range of techniques used by the government to spy on and disrupt community groups, including environmental, civil rights, and anti-war organizations.
————————-
Film Fest Schedule
1971
Opening Night: Wednesday, August 2nd, 8:30pm
Umbrella House roof garden, 21 Ave C
**(Accessibility Note: The building does not have an elevator. Access to rooftop requires climbing six flights of stairs)
2014 – Film directed by Johanna Hamilton – Runtime: 79 min
The FBI was unaccountable and untouchable until 1971, when a group of ordinary citizens uncovered its illegal domestic spying programs.
Cointelpro 101 & Still We Ride
Thursday, August 3rd, 8:30pm
6B Community Garden, corner of East 6th St. and Ave. B
Cointelpro 101, 2010 – Documentary directed by Freedom Archives – Runtime: 56 min
Cointelpro 101 exposes illegal surveillance, disruption, and outright murder committed by the US government in the 1950s, 60s, and 70s.
Still We Ride, 2013 – Documentary directed by Andrew Lynn, Elizabeth Press & Chris Ryan – Runtime: 37 min
Still We Ride showcases how group bicycle rides in New York City faced harassment by police during a crucial growth period of the cycling movement.
The Informant
Friday, August 4th, 8:30pm
Orchard Alley Garden, East 4th St. Between Ave. C and D
2011 – Film directed by Jamie Meltzer – Runtime: 81 min
The Informant delves into the life of Brandon Darby, a community organizer turned FBI informant.
Citizen Four
Closing Night: Saturday, August 5, 8:30pm
La Plaza Community Garden, SW corner of 9th Street and Ave C
2014 – Documentary directed by Laura Poitras – Runtime: 94 min
Citizen Four followed Laura Poitras as she encountered with Edward Snowden in Hong Kong before he handed over classified documents providing evidence of mass illegal invasions of privacy by the NSA.
————————-
A limited supply of all-inclusive passes for $20.00 is sale soon through Eventbright or by visiting MoRUS, 155 Avenue C between 9th and 10th Streets during hours of operation. Admission to each individual screening will otherwise require a suggested donation of $6.00.