Our Collective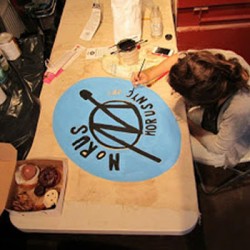 MoRUS was born in the East Village out of the observation that the neighborhood and its inhabitants, undergoing rapid transformations, are beginning to forget about their own history. When New York City almost went bankrupt in the seventies, community members struggled to preserve and restore their neighborhood. These activists have become fewer, and the new residents, who reap the benefits of their predecessors' efforts, are left unaware.
Noticing it, Bill DiPaola and Laurie Mittelmann, both long-term residents of the East Village and members of Time's Up! Environmental Organization, were determined to provide new opportunities for long-term activists to share their story and to pass on their experience and knowledge firsthand to new generations.
Located in the historic building C-Squat, MoRUS officially opened its doors in 2012 as a non-profit organization. The museum's storefront was renovated almost entirely by volunteers. They did electrical work and plumbing, built walls, ceilings, and floors, and constructed furnishings such as a reception desk and an elaborate mosaic sign. This process took eight months, and involved other volunteers simultaneously sourcing funds and exhibitions, designing tours, and creating structure for the volunteer collective that runs the museum, such as guidelines, by-laws and committees. Decisions are reached, events are planned, and new volunteers are plugged in through weekly general meetings and committee meetings. Committees include marketing, fundraising, administrative, merchandise, programming, tours, and exhibition/graphic design.
The Museum has become an important fixture in the neighborhood, not only to preserve the untold story of the East Village, but also to encourage community activism and sustainable development.