SUNDAYS, 3:00 — Radical Alphabet City Tour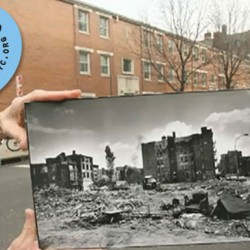 Walking tour of Alphabet City, #LES with squats, gardens, riots, uprisings and more. From the Civil War Draft Riots of the 1860s to the Young Lords, Black Panthers, hippies, Yippies and Up Against the Wall Motherf*ckers of the 1960s, to the Tompkins Square anarchists of the '80s to the tree-hugging urban enviros of the '90s to the neighborhood Earthies keeping the legacy alive today. 
Come visit legendary historic sites where the community faced off with gentrification and financial power. Peek inside vibrant community gardens and legendary tenement buildings and Tompkins Square Park. Check it out. This weekly walking tour starts at the Museum of Reclaimed Urban Space, 155 Avenue C, between 9th and 10th Streets at 3pm every Sunday and costs $20. The tour requires a minimum three people, and lasts for about two hours. The weekly walking tours do not require a reservation.
© MoRUS 2015 - Website Design by
@aicragellebasi