'The Garden' presented by Green Carpet Movies @ MoRUS- Thursday, Sept 7th, 7:30pm
'The Garden' presented by Green Carpet Movies @ MoRUS
Thursday, Sept 7th, 7:30pm
Museum of Reclaimed Urban Space, 155 Ave C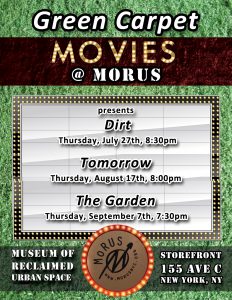 As part of its current exhibition Grow Me A Garden, MoRUS presents a summer movie night series, Green Carpet Movies @ MoRUS. The third and final movie of the series is 'The Garden,' directed by Scott Hamilton Kennedy.
"From the ashes of the L.A. riots arose a lush 14-acre community garden, the
largest of its kind in the United States. Now bulldozers threaten its future.
If everyone told you to give up, would you?"
– http://www.thegardenmovie.com/
Read more about the current exhibition 'Grow Me a Garden' here.
© MoRUS 2015 - Website Design by
@aicragellebasi