Fire Jumping for Persian New Year- Tuesday, March 14th, 6:30-8:30PM
8th Annual Chaharshanbe Sori (AKA the Persian/Zoroastrian fire-jumping holiday)
Tuesday, March 14th, 2017 – 6:30-8:30PM
La Plaza Cultural, SW corner 9th Street and Avenue C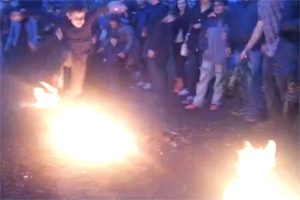 What we will do: We will light small fires at sunset, then jump through the fire. It is customary to sing the phrase, "zardi-ye man az toh, sorkhi-ye toh az man" as you jump. Literal translation: my yellow is yours, your red is mine. This is a purification rite. Loosely translated, it means you want the fire to take your pallor, sickness, problems and winter blues and in turn give you health, warmth, and energy.
Background: The ancient Persian New Year, Nowruz falls on the spring equinox, March 20th, on the Gregorian (western) calendar. Nowruz is based on the solar calendar, which is the direct descendant of the Zorastrian calendar. Chahārshanbeh-Sūri is an ancient festival dating to the Zoroastrian past of Persia, going back circa 2600 BC. It is a prelude to the ancient Persian New Year festival, which marks the arrival of spring. On the last eve of Wednesday of the Zoroastrian year, just before the spring equinox bonfires are lit in the streets from dusk to early hours of dawn. People jump through the fire, to exorcise the old year and its misfortunes and bring about regeneration.
In Farsi, Chaharshanbeh means Wednesday and Suri means red. The bonfires are lit at sunset to keep the sun alive till early hours of the morning. From among the Zoroastrian festivals some of the most important ones pertained to fire, a symbol of good health, cultivation, light, and purity. With the help of fire and light, we hope to see our way through to the end of the year, to the arrival of spring's longer days. The human faces her ultimate fear by jumping over the fire. That cleansing act is necessary before the advent of spring and the Vernal Equinox.
Another ceremony this night is Ghashogh zani, (spoon banging). Traditionally, many, specially children, wrap themselves in cloaks and run through the streets banging on pots with spoons, and knocking on doors for treats, symbolically reenacting visits from the spirits of the ancestors. Possibly, Halloween is a Celtic variation of this night. It is customary to offer "ajeel", a mix of nuts and dried fruit to people on this night.
In Iran Chahārshanbeh-Sūri serves as a cultural festival for Persians, Jews, Muslims, Armenians, Kurds, Turks and Zoroastrians who celebrate it and other Zoroastrian traditions Shabe Cheleh, the longest night of the year in December, or Jashne-Mehregan, the fall festival.
•Parents are responsible for their kids safety! We make all efforts to keep event safe, but we need your help. Please keep an eye on your children.
Rain date will be Wednesday, March 15th. Feel free to bring dried fruits, juice or any other treats to share.