December 12th, 2014- MoRUS 2 Year Anniversary Party- "The 2nd Wave of History"
MoRUS Two-Year Anniversary Party, "The Second Wave of History"
Friday, December 12th, 2014
Doors @ 8:00pm | Performances @ 9:00pm
@ MoRUS | 155 Ave. C between 9th & 10th Street, Manhattan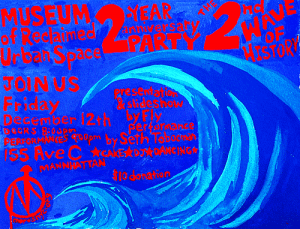 From the commemoration of the first annual Lower East Side History Month, to the opening of the Loisaida Center, 2014 witnessed an explosion of interest in the culture and history of the East Village. At the vanguard of this "second wave" of interest in the contributions of this neighborhood to civic life all over the city, the Museum of Reclaimed Urban Space (MoRUS) celebrates its second anniversary this month.
Featuring a slideshow and presentation by artist/activist Fly, a performance by prolific, radical comic book artist Seth Tobocman and sneak peek at John Frisbie's upcoming documentary, Anytime Baby: The War for the Lower East Side, the MoRUS Second Wave Birthday Fundraiser Celebration will take place on Friday December 12. Doors open at 8:00PM with Anytime Baby: The War for the Lower East Side trailer upstairs, and Fly and Seth's performances beginning downstairs at 9:00pm.
The evening will also feature a deejay, dancing, and cake! Sliding scale: $10 with all proceeds helping support MoRUS 2015 programming. MoRUS is located at 155 Avenue C, between 9th and 10th Streets. The first 50 attendees who pay $10 will also gain free entry to Saturday night's punk show.
If you can't make it to the party, please support MoRUS's effort to archive and document activist history by donating here. Sustainable concepts that promote reclaiming public space have since spread to the rest of the city and beyond.
© MoRUS 2015 - Website Design by
@aicragellebasi