custom tours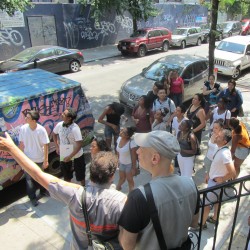 Custom tours of community gardens, squats, and other sites of social change are arranged for groups of 8 or more people such as families, visiting urban planning groups, and various universities studying gentrification, New York City history, theater, collective memory and experience, anthropology, and oral histories. These universities include The University of Wyoming, New York University, Manchester University, Yeshiva University, Marymount College, Lancaster University, Pacific University and others.
Create your own experience by selecting your choice of various squats, gardens, famous activist rallying points and sites of legendary demonstrations. Provide your interests, dates, and the number of people in your party and we can customize a tour to your preferences and get back to you promptly with a price, details, and instructions.
Our tours are one-of-a-kind, led by activists and community members who recount their own personal involvement with social change in the neighborhood. With this MoRUS tour, your party will enjoy walking through the community gardens, basking in the sunshine and, in some gardens, even tasting the community's fresh harvest. Take a look inside legendary squats and, if arranged, view a squatter's apartment and stand in awe of the way dedicated community members turned abandoned buildings into what incredible, unique spaces. MoRUS also offers unique tours that highlight the sustainable efforts of the Lower East Side. These tours will give your party an inside look into the creative repurposing of materials in the squats as well as the complex composting and recycling systems in the community gardens.
Perfect for students, adults and children alike. Please e-mail tours@morusnyc.org for details or call (917) 577-5621. Hope to see you soon! You can also contact the tour leaders directly. Bill DiPaola bill@morusnyc.org specializes in tours about sustainability and community gardens.

Group Reservation Policy
Reservations for groups must be made at least one week in advance.
Minimum of 8 and maximum of 25 people per timeslot. If your group is larger than 25, we ask that you make arrangements to divide your group and schedule two (or more) separate visits.
A deposit of $35 is required to secure your reservation and must be paid with a credit card.
If we do not receive your deposit one week prior to your visit, we reserve the right to cancel your group visit.
If your group must cancel its visit, the museum requires a minimum of 24 hours advance notice, or your deposit will be forfeited.
Please arrive ON TIME to the Museum. Late arriving groups will miss all or part of their program in order to respect our Museum scheduling.
Upon arrival, the group leader should check in at the front desk.
In case of severe weather, the Museum reserves the right to reschedule or change a program.
We accept checks, cash and credit cards for payment. Please make checks payable to 'Museum of Reclaimed Urban Space'. Please note: If your school issues a check for the total amount of your visit, it is non-refundable.
Custom Tour Locations
C-Squat
The Museum of Reclaimed Urban Space (MoRUS) is located in a legendary occupied building called C-Squat in the Lower East Side.
Dos Blockos
Visit the building that previously housed a large and vibrant community that was forcefully evicted in the second and final large-scale squat eviction in New York City.
Serenity Squat
Take in the hand-crafted welding outside of this still-functioning squat and discover what makes living in a squat such a unique experience.
Glass House
See the site of the former squat immortalized in Margaret Morton's book of photography entitled "Glass House."
Green Oasis Community Garden
Enjoy communal spaces in addition to learning about the community's sustainable practice of growing their own food in this historic community garden.
Gethsemane Garden Baptist Church
Hear about the renowned fight to save beloved community garden Esperanza and how its destruction led to the preservation of hundreds of garden in the area.
Lower East Side Ecology Center Garden
Discover the history of recycling in NYC and learn how community members in the Lower East Side recycled before the city's Sanitation Department launched an official recycling program.
209 E. 7th Street Squat
Established in 1981 and still functioning as a squat today, this squat's unique history includes hosting the community-run radio station "Steal This Radio."
Tompkins Square Park
A rallying point for the community since the 1850s, this park's history is packed with stories of protest and resistance.
The Christodora
Learn this luxury condominium's unique history as one of the first gentrified buildings in the neighborhood.
Charas Community Center
Visit the site that served as a community center for over twenty years. Community members still struggle to save it from development today.
La Plaza Cultural
Explore this thriving community garden and learn of its struggle to remain standing after multiple face-offs with developers.
377 E. 10th St, "The Tenth Door"
Pay a visit to this squat and learn why fire is a squatter's worst enemy.
272 E. 7th Street
See one of the Lower East Side's first organized squats and learn how squatters engaged in skill-shares, which empowered individuals and created a tight-knit community.